The Red Sox trade deadline has caused a bit of a stir in the Red Sox fanbase. Some wanted the Sox to trade all the expiring contracts and sell. Some wanted the team to be buyers at the deadline and trade for players who can make a big impact in 2022. Some people wanted the Sox to buy for 2023 and beyond. Then there were a couple people, such as myself, that said that they should trade players who aren't in the team's plans past this year, but not sell everyone. The Red Sox ended up doing a little bit of everything, but not enough of each to please any side.
They traded Christian Vazquez, who is a free agent after this season, for prospects. However, they also brought in Eric Hosmer and Reese McGuire, who are both under contract for the next couple years, as well as Tommy Pham, who has a mutual option for 2023.
With the deadline now in the rearview mirror, we can look at what is ahead now and in the future.
There are several questions surrounding the 2023 team. Who stays, who goes, who gets added to the picture, how much money will be spent, where that money will be spent, and potentially the most important question of all … what happens with Xander Bogaerts?
First, I'm a little worried about Xander Bogaerts and his impending free agency. I have a bad feeling that there will be a team that throws a massive amount of money to Bogaerts, making it untenable for the Red Sox to match that offer. I'm all for keeping Bogaerts, but with the caveat of it being at a reasonable price. I wouldn't go over 8 years at a maximum AAV of $30 million for Bogaerts. The max I'd offer him is 8 years for $200 million. The max I'd offer in AAV would be 6 years for $171 million, or $28.5 million a season with a player option after the 4th season. If the player option is declined, the Red Sox would then have a team option to add a 7th year to the deal (similar to the Trevor Story deal) at $30 million for the 7th year. 
If Bogaerts does leave, there aren't many options at SS, especially since it seems like the Red Sox will be seeking a stop gap solution. Jose Iglesias is interesting as a free agent, but I don't see it happening. His defense at short has dropped the last two seasons, and if the Red Sox are looking for a SS they will want a very solid defensive player. Iglesias has the reputation as a good defensive player, but in 2021 he had -22 defensive runs saved (DRS) as well as 0 outs above average (OAA) and 0 runs above average (RAA). This year, Iglesias is at -4 DRS with 0 OAA and 0 RAA.
The only option that makes sense to me that is under control for the next two years is Ha-Seong Kim, who is very good defensively and wouldn't cost much to trade for. In just over 900 innings at SS in his 2 years in the big leagues, he has a combined 15 DRS to go with 9 OAA and 6 RAA. He's not great with the bat, with a 70 wRC+ in 2021 and 101 wRC+ in 2022 (100 is league average), but he's a guy you can use at SS until you transition to Marcelo Mayer. It feels similar to the Yankees getting Isiah Kiner-Falefa this past offseason. IKF will only be there until Oswald Peraza and/or Anthony Volpe are ready. Ha-Seong Kim would only be in Boston until Marcelo Mayer is ready.
The next big question mark is the catcher position. Who makes sense there?
Mike Zunino fits the profile of the type of catcher it seems Chaim Bloom wants. He is very good defensively with throwing runners out and framing pitches, and his power stroke would add some thump to the mix. He could fit very well with the green monster. Plus, he's a free agent after 2022.
They could opt for some combination of Connor Wong and Ronaldo Hernandez, but I have a gut feeling about the Red Sox signing Zunino.
The penultimate question is who plays center field? Is it Jarren Duran, Rob Refsnyder, or someone who isn't in the organization? Obviously there's the option to let Duran and Refsnyder battle for the CF spot, but will Duran still be in Boston? If not Duran or Refsnyder who do the Red Sox target?
I see three options. Trading for Ramon Laureano, signing free agent-to-be Brandon Nimmo, or the most interesting option: taking a flier on Cody Bellinger.
Yes. I'm not joking. Bellinger brings solid defense in center, and if his bat can be turned around it could be a massive boost for the team. I suspect he's a non-tender candidate, but if the Sox are willing to throw something the Dodgers way, they might take it (if the Dodgers non-tender Bellinger, they lose him for nothing). If he is non-tendered, the Red Sox could get him on a one-year deal.
The potential non-tender of Bellinger is the only thing that might make this move a little difficult. Bellinger will probably get around $18 million in arbitration, and the Dodgers probably don't want to pay him that. They only way to not pay him that is to non-tender him and allow him to become a free agent, giving every team the opportunity to sign him. But like I stated before, I think the Sox could just trade for him, and they could pay that $18 million because they have the money available to do so.
That would give the Red Sox Bellinger for 2023 and give him a chance to turn things around, with Refsnyder and/or Duran on the bench if needed. Then, my hope is Ceddanne Rafaela and his amazing defense will be ready in 2024 after continuing to develop his bat and approach at the plate in the minors.
The last remaining question is how Eric Hosmer and Triston Casas fit in? They are both first basemen that can't play elsewhere. My answer is to rotate them between 1B and DH. J.D. Martinez will not be returning after 2022, which opens up the DH spot. That could slide Bobby Dalbec to the bench (if he is still on the team), where he can be a backup 1B/3B/DH.
Here is how I see the 2023 Red Sox lining up positionally:
Starters:
C: Mike Zunino
1B: Eric Hosmer/Triston Casas
2B: Trevor Story
3B: Rafael Devers
SS: Ha-Seong Kim
LF: Tommy Pham
CF: Cody Bellinger
RF: Alex Verdugo
DH: Eric Hosmer/Triston Casas
Bench:
Reese McGuire
Bobby Dalbec
Christian Arroyo
Rob Refsnyder
Obviously Bogaerts could return, and he'd slide into the SS spot with no problems. However, teams just love to throw boatloads of money at free agent shortstops (unless your name is Trevor Story). Bogaerts is about to sign the final long-term contract of his career, and nobody can begrudge him for wanting to make that contract as lucrative as possible.
The business side of baseball often forces us to waive goodbye to our heroes long before their playing days are over, and it looks like Bogaerts will be the next Red Sox icon to follow that path. If he doesn't return after 2022, whether or not allowing him to walk that path was the right move for the Red Sox will be a hotly-debated topic debated among Red Sox fans for years to come. 
I have answered a lot of questions about the 2023 Red Sox. However, I haven't even mentioned arguably the biggest question surrounding the Red Sox. Will Rafael Devers sign an extension? To me, this is more of a matter of when, not if. The Red Sox will have all the money available to go out and sign Devers to a massive extension of 10-12 years, worth $30 million a year. Manny Machado got 10 years for $300 million a few years back. I think Devers could get 12 years for $350 million. If the Red Sox wanted to make headlines, they could sign Devers to a 12 year deal at $365 million. This is the same deal Mookie Betts got from the Dodgers. What a spicy headline that would be.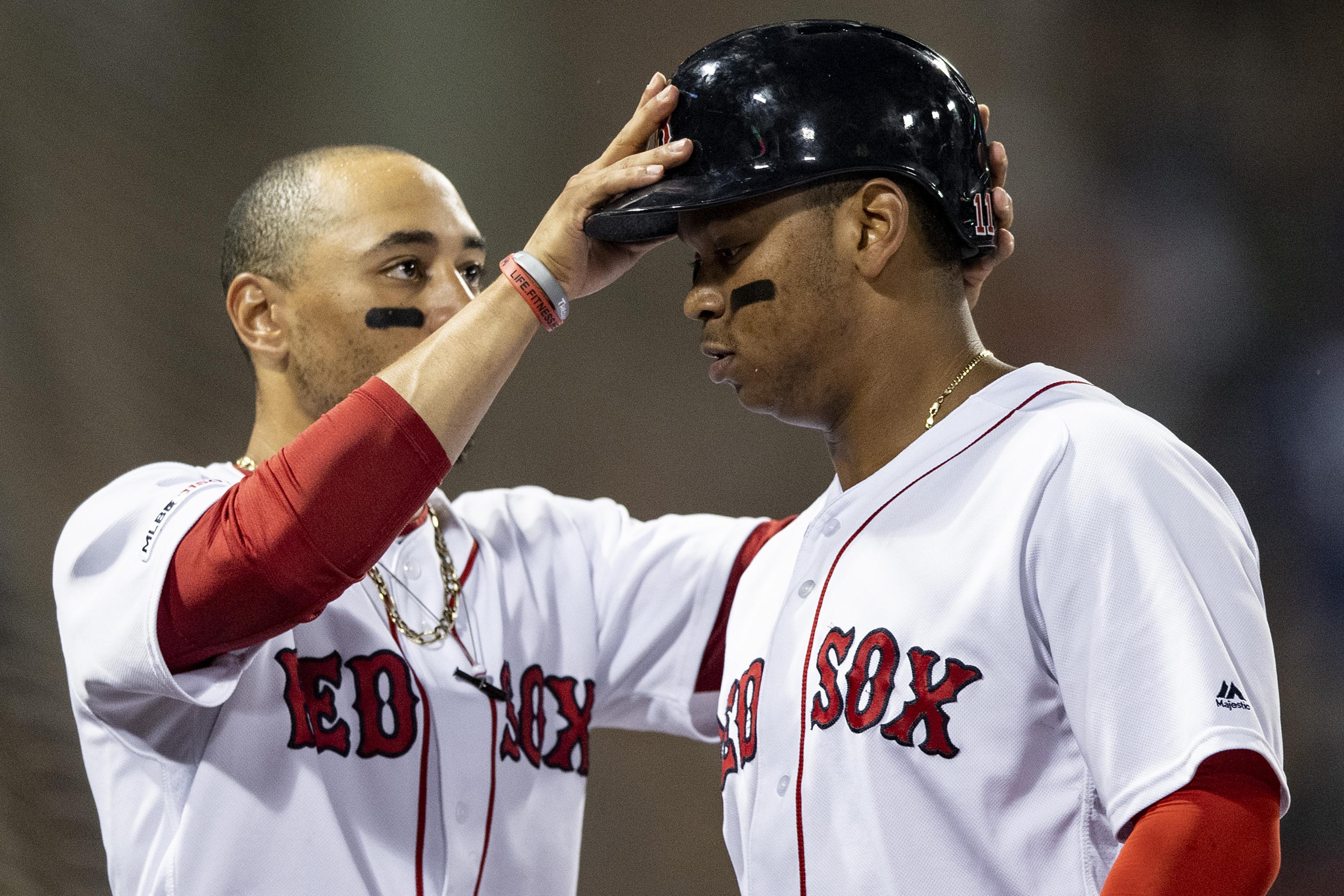 The rest of the team, as I've projected it, has multi-faceted potential. It could be a deep, solid lineup that can beat the opposition in a variety of different ways. On the other hand, it could be an underwhelming mishmash of mediocrity that is far too dependent on the bat of Rafael Devers. Which of these extremes will we see next season?
That, as they say, is why they play the games.
Check back next week, when I take a look at the projected Red Sox pitching staff for 2023.